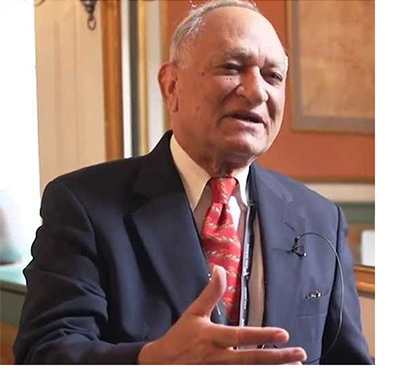 Dr. Parvez Hassan, Senior Advocate, Supreme Court of Pakistan, is the Senior Partner of Hassan & Hassan (Advocates), Lahore. His academic degrees include a B.A and LL.B. from Punjab University, Lahore, a Masters of Law from Yale, and a Doctorate of Law from Harvard. Dr. Hassan is the Chair Emeritus of the World Commission on Environmental Law of IUCN-The World Conservation Union, and the President of the Pakistan Environmental Law Association.
Dr. Hassan is a founder and member of the governing bodies of Lahore University of Management Sciences (LUMS), Beaconhouse National University (BNU), and Child Care Foundation. He is a founder and a former member of the Board of Governors for the first ten (10) years of the Shaukat Khanum Memorial Hospital, Lahore. He provided foundational advice to The Citizens Foundation. He also provides honorary legal services to most of these and several other charitable organizations.
Dr. Parvez Hassan sponsored the establishment of the Dr. Parvez Hassan Environmental Law Centre (PHELC) at Punjab University, Lahore, the Shaikh Ahmad Hassan School of Law (SAHSOL) at LUMS, Lahore and the Razia Hassan School of Architecture (RHSA) at BNU, Lahore.
Dr. Hassan has written numerous articles on environment, law and national affairs in law journals and other publications in the U.S., South America, Europe, Africa, and Pakistan, and has organized and chaired international law conferences and presented keynote addresses all over the world.  His book, Stories of Gratitude, was published by the Pakistan Law House in 2016. Dr. Hassan is on the Editorial Board of the Asia Pacific Journal of Environmental Law and the Journal of Human Rights and the Environment.
Dr. Hassan's Publications
Resolving Environmental Disputes in Pakistan : The Role of Judicial Commissions
Author: Parvez Hassan
Publisher: Karachi : Pakistan Law House, 2018.

Description: xxx, 501 pages : color illustrations ; 25 cm
ISBN: 9789698372361
Subjects:
Environmental law -- Pakistan
Environmental mediation -- Pakistan
Dispute resolution (Law) -- Pakistan.
Kindle ebook
(Right-Click and "Save Link As")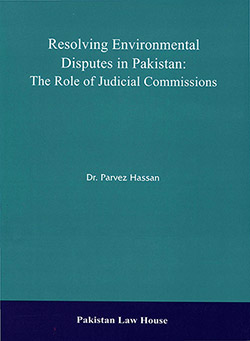 Stories of Gratitude
Author: Parvez Hassan
Publisher: Karachi : Pakistan Law House, 2016.

Description: ix, 181 pages : color illustrations ; 25 cm
ISBN: 9789698372378
Subjects:
 Environmental law -- Pakistan
 Environmental Lawyers-Pakistan-Biography
 Environmental protection -- Pakistan
(Right-Click and "Save Link As")